HOW TO PROTEST PROPERTY TAXES



Did the ground fall out from under you when you opened your property tax bill....again?
What to do? Protest Protest Protest

Especially now with online protests permitted statewide, it's easier than ever.
The two important numbers are the market value (which is an appraiser's guess at a sale price) and the appraised value, which is what is multiplied by the various taxing governments to get your tax bill.
There's a 10 percent cap on the annual increase of your house's taxable appraised (not market) value, but only for those homeowners with a homestead exemption. That's why many this year will see a 9.9 percent increase. Appraisers want to go higher, but computer software knocks it down to the cap. Love the cap.
How to protest
File a protest well before the May 15 deadline in case of computer glitches. One popular method is to get comparable sales numbers from a Realtor or from the appraisal district (some will give if you ask). Then show their numbers are out of whack. See below options from Alicia.

Find someone in your neighborhood with the exact same house plan. Check their numbers on the appraisal district's website. If their numbers are lower, show that in a protest. Bring photos and copies of their tax records (available for free on an appraisal district's website). You win.
Or if you have house problems like a hail-damaged roof or foundation cracks that need fixing, get estimates and show those to prove your home's value should be lower.
You can even hire an outside company to protest. More information about those on my Protest Cheat Sheet.

To view the details of the process from collin county click here to see their 2018 Press Release.
Filing a protest
Texans have a legal right to equal and uniform taxes. But the system is set up so the property owner must appeal to protest an assessed value.
An online protest is the first step. If you have a eFile number in the top right hand side of your notice then you can file electronically! See cheat sheet below steps.

Texas Comptroller how to video.
Collin Arbitration Board https://www.collinarb.org/faq
Deadline will be on notice and is usualy between May15-31st.

Appraisal notices are mailed by late April. Not everyone receives one (only those facing an increase are required to get them), so look yours up online or call the appraisal district. Even if there's no increase, you can still protest.
Learn more at www.window.state. tx.us/taxinfo/proptax/
Evidence Tips-
Pictures are worth a thousand words – Take pictures of any disrepair on your property and of any "negative influences" surrounding your property. Qualified negative influences could be busy streets, water tower looming over your house, sewer plant nearby, commercial property bordering your residential, etc. Your noisy neighbor's junked out car and overgrown grass probably will not qualify!
Google Earth is a wonderful thing. I would recommend printing a satellite view of your property and the surrounding area. Probably 85% of the time you can find something negative to talk about on the image! It could be anything. Get creative and add support to the rest of your presentation.

For more tips print or download our Protest Cheat Sheet.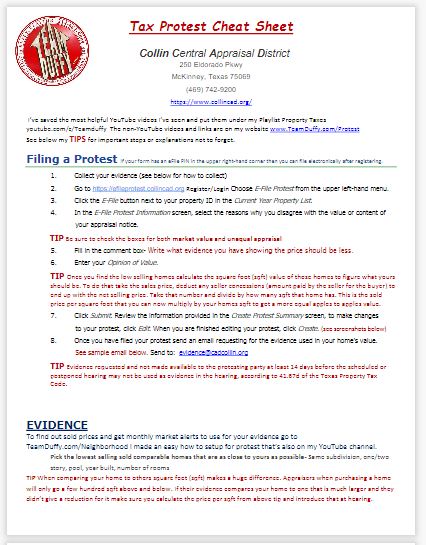 ---
3 ways to get a list of your properties sold comparables:
Look up tax values by the appropriate county link below.

Contact Alicia for a list to be emailed to you. Please Include in the Notes section your address, square feet, pool and subdivision name. AND/OR
Enroll Free for my Your Neighborhood to get monthly reports of your areas activity including sold information. Make sure you go back the days to Jan 1 of the previous year (so 450ish days).
How To Setup Your Neighborhood Page
April 2018 Dallas Morning News posted this article explaining a new website that will show the chances you have of winning a protest. Not sure if accurate but see screenshot below mine said weak. It's free unless you want the comparable report but you can already get that free from the above Your Neighborhood page on my site.

County by County
Dallas County: DallasCAD.org
Notices are mailed April 30. The property tax notices use a new style this year, spokeswoman Cheryl Jordan says. Previously, Dallas' forms were difficult to understand. The district declined to show The Watchdog the new form.
Collin County: CollinCAD.org
Notices are mailed April 29. The county's entire taxable value is expected to jump 10 percent, Chief Appraiser Bo Daffin says.
Denton County: DentonCAD.com
Notices are mailed April 29. For the third year, the county will offer a satellite site in Lewisville to handle overflow of protest hearings in June, chief appraiser Rudy Durham says.
Tarrant County: TAD.org
Difficulties continue for chief appraiser Jeff Law, whose department has struggled with computer and software changes that have snarled the appraisal district's operations in recent years. This year, some complain that the district put the wrong protest deadline date on some tax notices. Law is the only chief appraiser who declined to talk to The Watchdog.
Rockwall County: RockwallCAD.com
Notices were mailed April 22. "We're excited the market is increasing even though that does mean an increase in values," chief appraiser Patricia Davis says.
by Dave Lieber, The Dallas Morning News
Wishing us all good luck! Feel free to call me with any quesions!
Alicia Duffy 214-682-5009