About Me
Let's get you moving...click icon or chat below to connect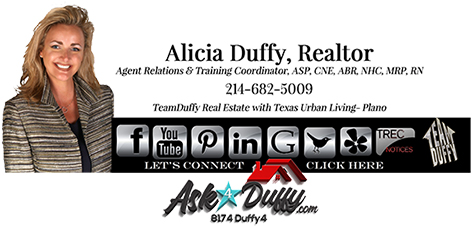 Realtor 20+yrs, Dallas Native, Home Stager, Former RN & REO Listing Agent, iBuyer Partnering Agent, Mother of 3 from PISD…..I've seen it all and would be honored to assist you with your next move!

Save our business card straight to your phone!

We believe the consumer deserves a better quality experience. We know buying or selling a home can not only be scary but it can be really frustrating. We provide massive service high touch but still with the one on one 4 seasons quality concierge quality and attention you deserve valuing the relationship over the transaction.
There's so much information online that you could spend days and days just trying to find one answer. I know most people are like myself and want questions answered now so to alleviate some of that fear I've created several ways whether you are a client of mine or not to get questions answered fast.

* Hit the chat button at bottom of any page on my website to messenger me
*Call or Text any questions to my mobile 214-682-5009

*Go straight to my voicemail Question Answer line 817-4DUFFY4
*Immediately book an exact time you need a phone converstaiton, home showing or listing appointment on my scheduler https://calendly.com/schedule-realtor
*See My YouTube channel and Seller and Buyer Resource pages have all the most common questions answered and you can visit anytime.
We do in-depth market analysis, thorough vetting of the home, markets sales and your personal time line to develop a straight forward plan of action and cost analysis from your net backwards to your ROI, not just on your money but on the all to valuable but hard to put a price on…your time!
I use my 20+ years' experience as a listing agent , REO agent, iBuyer partnering agent, Staging & Investor remodels. Plus, my nursing background of holistic care and teaching approach to cultivate and present you with the pros/cons on each of your options so you can make the right decision for your family. We have lots of contacts and are continuing to search out the best programs for our clients whether you want to buy a home with cash before you sell, get no out of pocket updates and staging to sell for top dollar or build your dream home. We pride ourselves on knowing the programs to help you make a decision.
We will have your back as your trusted local advisor from selling your home: marketing, contracts, budgeting, project manager, negotiating, legalities of contracts, and staging to finding your new dream home to have a stress free seamless move!
As my reviews will probably show you (see below), I am brutally honest. Sugar coating or misleading to get a deal is just not in my nature.
Would we work well together?
I have three wonderfully amazing children that grew up going to PISD. I'm a Yogi wannabe, Techie, HGTV junkie and DIY nailed it hobbyist. Born in Denton, raised in Richardson, living in Plano/Allen and family from here to Fort Worth.
I worked as a R.N. in L&D at Parkland then Home Health to a Realtor at RE/MAX in 1998. Being married to a mortgage broker for 20 years gives me a well-rounded view of the obstacles and stresses my clients go thru which equips me to prepare them better. Those experiences laid a great teaching foundation with holistic approach for my real estate career and bonus if anyone goes into labor or has an emergency while looking at houses I'll know what to do :)

Selling a home?
My home sellers will receive my honest detailed evaluation of your home's value and Proven marketing plan including strategies to stage your homes best qualities offering maximum exposure to find your perfect buyer in lightning fast time getting you the best price for your home!
See the different ways you can get your homes value TeamDuffy.com/cma
Working almost exclusively as a Foreclosure Listing agent during the down market of the mid 2000's I carried over 15 listings a month each with 20+ offers to be vetted and presented to the bank. That organization, quick calculations of repairs/remodeling costs, expansive contractor network and wearing my general contracting hat while preparing homes for resale continues still.
As real estate specialist, I know what it takes to sell homes in any market. I bring expert knowledge, valuable experience blended with the latest technology, a well-defined marketing plan, a cohesive network, energy and enthusiasm.
View details of all our services TeamDuffy.com/sellersfirst
Get more information about selling a home in the DFW area on our Sellers Page.
Continuing education from my accredited buyer representative designation, certified negotiation expert, military relocation, new home construction specialist to one of my favorites my Accredited Staging Professional. Since I strongly believe staged homes sell faster and for more money I provide this as a free service to my sellers. Plus I'm able to assist my buyers in spatially deciding what home fits their family's needs.
Area Infographics: Text TeamDuffy to 800.701.6509
See an example of some of our virtual tour marketing here.
Staged homes sell faster and for more money! See some before and after photos here.
FUll TIME AGENT
why does this matter to you? See the differences
here.
Buying a home?
We have a common goal: Making you a homeowner. Let's make it happen!
Ensuring you exceptional service at every step of your home buying process. Checkout our
Step 1
video!
Search listings the way you prefer, find out status changes and new listings they moment they go on the market or take me with you with your own mobile app
Get real estate market watch updates for listings in your area.
"For Buyers" - Your source for the latest tips, checklists and free reports.
Personal Consultation - Vast experience and knowledge you can rely on.
Financial advice - Loans, Mortgages, interest and tax benefits.
Search new home construction homes exclusively and get more information about Building in the DFW area.
Community information and Utilities.
much much more see our Buyers Page
Grab your cheat sheet for navigating online searches including the MLS.
I am passionate about my job, love my neighborhood and keep up with the latest trends and strategies so that I can pass them on to my clients.

Save Alicia's Contact here
Better yet call me today for your Personal Consultation to help you develop the perfect timeline to make your move seamless whether it's in 1 month or 1 year. One call and done.








---